Salem, Ore. – "Active is an understatement. Oregonians are erupting with imagination…" The brand anthem for the Oregon Cultural Trust proclaims the unique connection Oregonians have with culture; a connection that is celebrated each October during Days of Culture.
Days of Culture 2016 will showcase the diverse ways Oregonians experience culture with an Oct. 1-8 social media campaign inviting individuals to share snapshots and videos of their cultural experiences. All who post on Facebook, Twitter or Instagram with the hashtag #ORCulture will be entered to win prizes that showcase Central Oregon culture.
The prizes include: three nights in a River Ridge one-bedroom suite (sleeps four) at Mount Bachelor Village Resort; Mount Bachelor lift tickets; a Wanderlust half-day excursion; passes to the High Desert Museum; a $100 gift certificate to Bend's Tower Theatre; passes to the Museum at Warm Springs including a Huckleberry gift basket; and 2017 "The Men Behind the Quilts" calendars from the Sisters Outdoor Quilt Show.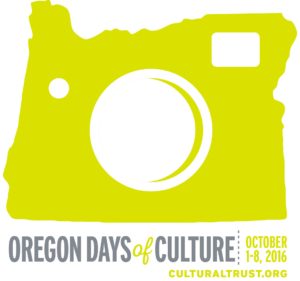 Traditionally a weeklong celebration of events and activities presented by Oregon's 1,400+ cultural organizations, coalitions and tribes, Days of Culture commemorates the Oct.8 anniversary of the Cultural Trust, established in 2002. The decision to expand the celebration to feature individual experiences came from a desire to demonstrate how interwoven our culture is with everyday life.
"Many people think culture is exclusively about art, humanities and history," said Aili Schreiner, Cultural Trust manager. "Certainly going to a concert, reading a book or visiting a monument are cultural experiences, but so is celebrating a birthday by eating cake or landing your first salmon on the Columbia River. Our culture is defined by who we are, what we do and how we experience life."
All Oregonians are invited to share their culture by capturing a photo or video of a cultural moment or event (anything from a visit to a lighthouse, a poetry reading, a sporting event or a concert to a quinceanera or a book club) and posting it on Facebook, Twitter or Instagram with the hashtag #ORCulture. The goal is to digitally showcase a range of cultural experiences from around the state. All posts will be entered to win the Central Oregon prizes.
Days of Culture also launches the Trust's fundraising season; those who gave or give a 2016 donation to one of Oregon's designated 1,400+ cultural nonprofits are eligible for a tax credit if they make a matching gift to the Cultural Trust.
For details on Days of Culture 2016 and the tax credit, visit www.CulturalTrust.org.
To learn more about the cultural and recreational paradise of Bend, Oregon check out www.visitbend.com.
# # #