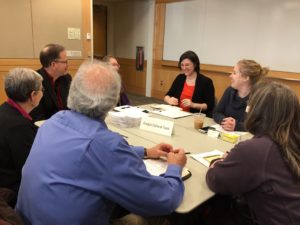 More than $5 million in funding will be on the table when Oregon Cultural Trust Manager Aili Schreiner joins with colleagues from the Cultural Trust's Statewide Partners and other funders Feb. 6 through March 8 for "Conversations with Funders and Partners," a 14-stop state tour. Attendees will learn about grant programs available from multiple grantmakers and will have the opportunity to discuss their projects and programming (find shared Grant Calendar here). Other statewide programming resources also will be presented.
Representatives from the Statewide Partners – the Oregon Arts Commission, Oregon Heritage, Oregon Humanities and the Oregon State Historic Preservation Office – will be joined by counterparts from The Oregon Community Foundation and Portland's Regional Arts and Culture Council for some of the events.
Organizations encouraged to attend "Conversations with Funders and Partners" include libraries, arts organizations, museums, cultural centers, historical societies, arts alliances, literary groups and heritage organizations. All cultural nonprofit organizations are welcome.
"There are more than 1,450 cultural nonprofits serving Oregonians," said Schreiner. "We want to make sure they know about the grant funds and significant programming resources that are here to support them."
Among the grant opportunities discussed will be the Cultural Trust's 2018 Cultural Development Grants; grant guidelines will be posted on the Trust website by Monday, Feb. 12, with an April 13 application deadline (see details below).
"Conversations with Funders and Partners" begin Tuesday, Feb. 6, in Northeast Portland and are scheduled in regional flights. Registration is not required.
The schedule is:
Portland Metro – all events 4 – 6:30 p.m.
Portland: Tuesday, Feb. 6, Cerimon House (5131 NE 23rd Ave.)
Beaverton: Thursday, Feb. 8, Meeting Room A, Beaverton City Library (12375 SW 5th St.)
Oregon City & Eugene – all events 4-6:30 pm
Oregon City: Tuesday, Feb. 13, Community Room, Oregon City Library (606 John Adams St.)
Eugene: Thursday, Feb. 15, Phoenix Room, Phoenix Inn Suites (850 Franklin Blvd.)
Oregon Coast & Roseburg – event times vary
Seaside: Tuesday, Feb. 20, Clatsop Community College, South County Campus (1455 N Roosevelt) 10 a.m. – 12:30 p.m.
Lincoln City: Tuesday, Feb. 20, Lincoln City Cultural Center (540 NE Hwy 101) 4 p.m. – 6:30 p.m.
Florence: Wednesday, Feb. 21, Florence Event Center (715 Quince St.) 10 a.m. – 12:30 p.m.
Coos Bay: Wednesday, Feb. 21, Coos History Museum (1210 N Front St.) 2 p.m. – 4 p.m.
Roseburg: Thursday, Feb. 22, Pacific Hall, Douglas County Fairgrounds (2110 SW Frear St.) 12 p.m. – 2:30 p.m.
Central & Southern Oregon – event times vary
Bend: Tuesday, Feb. 27, High Desert Museum (59800 US-97) 4:30 p.m. – 7:00 p.m.
Klamath Falls: Wednesday, Feb. 28, Ross Ragland Theater (218 N 7th St.) 12 p.m. – 2:30 p.m.
Medford: Wednesday, Feb. 28, Adams Room, Medford Public Library (205 S Central Ave.) 4 p.m. – 6:30 p.m.
Eastern Oregon & Willamette Valley- all events 4 – 6:30 pm
La Grande: Tuesday, March 6, Community Room, Cook Memorial Library (2006 Fourth St.)
Albany: Thursday, March 8, Albany Regional Museum (136 Lyon St. S)
Oregon Cultural Trust Cultural Development Grants
The Cultural Trust's Cultural Development Grants recognize and support significant cultural programs and projects through four grant categories: access; preservation; creativity; and capacity.
Since 2017 is projected to be a successful fundraising year for the Cultural Trust, a record amount will be available for grants which last year totaled more than $2.94 million. Cultural Development Grants represent one third of the annual funding the Cultural Trust provides to Oregon's cultural nonprofits. Other funding includes grants to the Trust's five statewide partners – to support their projects and respective grant programs – and to 45 county and tribal cultural coalitions that fund local initiatives and grants.
FY2019 Cultural Development Grants are for projects and activities that will occur between Aug. 1, 2018, and July 30, 2019.
Grant guidelines will be posted on the Cultural Trust website by Monday, Feb. 12, for an application deadline of 5 p.m. on Friday, April 13. The online application will be live March 1, 2018.
For more information contact Schreiner at aili.schreiner@oregon.gov or 503-986-0089.
# # #