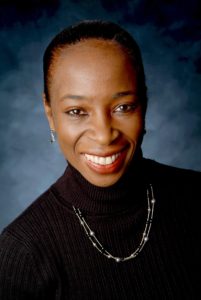 Bereniece Jones-Centeno, the interim managing director of the Astoria Music Festival, is the newest member of the Oregon Cultural Trust Board of Directors. Jones-Centeno was nominated by Gov. Kate Brown and confirmed by the Oregon Senate Wednesday, Dec. 14. She fills the position vacated by Bob Speltz, who stepped down in October after seven years of service, three as board chair.
Jones-Centeno holds graduate degrees in music and arts administration and is completing her PhD in musicology at the University of Oregon, where she has served as assistant grant writer, taught a variety of courses and presented outreach projects on behalf of UofO, Oregon Bach Festival, Eugene Opera and other community organizations.
"I'm thrilled to welcome Bereniece to the board," said Cultural Trust Board Chair Carole Morse. "She is an experienced artist and arts administrator who is committed to having a vibrant arts and culture environment in Oregon. It's also exciting to have the important North Coast region of the state so well represented."
Named managing director of the Astoria Music Festival in January 2016, Jones-Centeno has worked with the festival since 2009. She previously served Eugene Opera in a variety of capacities including president of the board of directors, stage director for the Artist Mentor Program, chair of the education committee and interim director of education and community engagement. She also is co-founder and artistic director of Chicago's Genesis Opera and co-founder and artistic director of Eugene's Cascadia Concert Opera.
"For me, Oregon has always been one of the most appealing locales for arts and culture given the idyllic landscape and the wealth of artistic endeavor," said Jones-Centeno. "It has been my long-held passion to be an integral part of the cultural fiber that reaches so many diverse citizens. It is my honor to have an opportunity to work with such an illustrious and hardworking group of people as we continue the important work of ensuring access to arts and culture across the state."
Jones-Centeno's for-profit business experience ranges from executive assistant to the CEO and sales representative of a large corporation in Chicago to realtor® for Coldwell Banker Brokerage in Evanston, Illinois.
She begins her four-year term immediately.