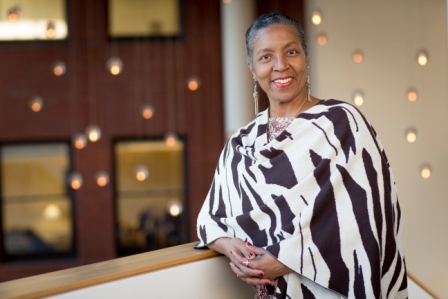 Salem, OR – On February 11, Legacy Cancer Institute's Nathalie McDowell Johnson, MD., FACS., of Portland was officially confirmed by the Oregon State Senate for her appointment to the Oregon Cultural Trust Board by Governor John A Kitzhaber, MD. Her service on the Board begins March 1.
A surgical oncologist and Medical Director of the Legacy Breast Health Centers, Johnson started her professional life as a dancer with the Ballet Theatre of the Virgin Islands. She remembers a summer with the company in New York City, which included time with dancers from Alvin Alley's theatre. "Watching those men and women's lives, the rigors, tryouts, rejections… I decided medicine was probably easier," she said with a smile.
A graduate of Howard University, she went on to attend medical school at The University of Virginia and do residency and surgical internship at University of Southern California. And, though she says she still dances, "at a good party," Johnson's medical practice, women's breast health, and education about breast cancer has become her professional crusade.
Johnson's own mother, Lucy George, survived breast cancer in Johnson's childhood, an experience that had a profound influence on her.
George also instilled in young Nathalie the importance of the arts. Growing up on St. Thomas, Johnson recalled that her mother, "enrolled us in ballet, took us to plays, the opera, musicals. She made sure to expose us because, as the daughter of a domestic and a railroad worker in the 40s, these were things she dreamed of but could not access."
Johnson comes to the Cultural Trust Board with a goal of increased accessibility for under-served populations. "I would love to make sure all Oregonians have the opportunity to take part in the culture, art and heritage that is available," said Johnson. Young people, in particular, need access to the arts, she said. "My mother taught us that, with imagination and creativity, there is no time for boredom."
Johnson has a keen eye on the intersection between her two passions, art and medicine. The Legacy Cancer Institute incorporates art therapy into its programs for children and adults. "Being able to express yourself through art or music is healing," said Johnson.
Music is also played in the institute's Intensive Care Unit, which Johnson says, "slows the heart rate and improves the breathing," for critically ill patients and those at the end of life. "Music actually decreases their need for pain medication," she said. The peace and tranquility the arts provide, "can make a big difference in health outcomes."
Trust Board Chair Bob Speltz was intrigued by Johnson's perspective as a physician. "Dr. Johnson understands the very tangible ways in which access to culture ties directly to improved quality of life," said Speltz. "Her steadfast commitment to expanding access to and participation in culture in Oregon is extraordinary, and her earlier life as a dancer gives her a context for culture as a viable career choice."