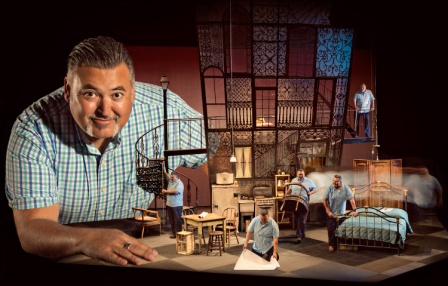 Oregon's cultural sector accounts for 19,000 jobs and $272 million in wages statewide. Between that income and the sale of tickets, merchandise and more, state and local governments bring in $52 million in taxes and fees. So, the Oregon Legislature had no problem passing HB3232, "Connecting Students to the World of Work," with generous funding for underserved students, grades six-12, to explore and gain professional experience at some of the state's most powerful arts organizations.
Administered and led by the Oregon Arts Commission, in partnership with the Cultural Trust, "World of Work" (WOW) grants were awarded to eight organizations, in amounts ranging from $22,000 to $50,000, for projects up to 18 months long, from Gresham to Ashland.
According to Deb Vaughn, the arts education coordinator for OAC, the WOW program provides a welcome addition to cultural education funding. "A strong body of research demonstrates that culture and the arts contribute to academic success for high school students from low socio-economic backgrounds, English language learners and students with special needs. Some of the positive results have included improvement in state test scores, increased attendance and participation, reduced dropout rates and higher likelihood of completing a post-secondary degree," said Vaughn.Student interns will not only job shadow and acquire hands-on skills, they will also learn how to transfer what they have learned to resumes, mock interviews and professional presentations.
WOW is part of a comprehensive STEM to STEAM initiative that allocates more than $12 million to strategic investments in education, including high school to community college bridge programs. Connecting Students to the World of Work has a long term goal of increased high school graduation rates and post-secondary education enrollment, as per the State's 40-40-20 initiative.
The WOW grants are as follows:Jordan Schnitzer Museum of Art, Eugene – $27,325 to support the ArtWorks internship program for students grades 9-12, providing instruction in arts education, working collaboratively with museum educators and curators and assisting with teaching art lessons for younger students.
Lane Arts Council, Eugene – $22,000 to support the Arts Apprentice Program with 20-30 students in grades 6-8. Students will connect with professional artists and arts organizations, be mentored and create hands-on art projects.
Oregon Shakespeare Festival, Ashland – $26,000 to support an expansion of PEEPS (Professional Education and Experience Program for Students) to include formal skills instruction, more students, travel stipends and more OSF company members as mentors.
Pacific Northwest College of Art, Portland – $39,360, to support the creation of a Creative Conservation Corps, consisting of project-based design and craft activities from publication design, fabrication of objects and systems design for sustainable products and services.
PDX Pop Now, Portland – $40,000, to support Beats Lyrics Leaders, audio production training aligned with state education and Career Tech Education standards. Native American youth will participate in seasonal week-long workshops on music production skills and receive year-round professional mentorship in a studio environment.
Peter Britt Gardens Music & Arts Festival Association, Medford – $28,500 to support the extension of existing internship program to include up to 12 high school juniors and seniors in a year-long sequential program culminating in a student-curated performance in June 2015.
Techstart Education Foundation, Portland – $48,350 to support expanded opportunities for underserved students in STEAM education and careers through Youth Game Camps.
The Center for Advanced Learning, Gresham – $50,000 to support student development of an ad campaign and promotional website celebrating the 100 year anniversary of the Historic Columbia Highway on behalf of the Troutdale Historical Society.
Total $281,535
Click here to read more in-depth coverage about the WOW grants.