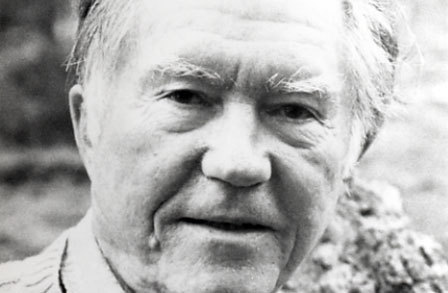 It is a rare occasion when Oregon Heritage Commission declares a certain day, month or year a statewide celebration.
Such notables include the 100th anniversary of the Lewis & Clark expedition, 2003-2006, and the Sesquicentennial Birthday of Oregon Statehood, 2005-2009.
In a move that embraces the arts and humanities as well as history, the Heritage Commission, one of five statewide Cultural Trust partners, declared 2014 a statewide celebration of William Stafford's Centennial birthday.
William Stafford was born on January 17, 1914, in Kansas, and attended University of Iowa for his PhD. He settled in Lake Oswego in 1956, taught at Lewis & Clark College and wrote stunning poetry that made him – and Oregon – famous. Every January dozens of celebrations are held across Oregon and nationwide to honor Stafford, who died in 1993, having written 22,000 poems.
Current Oregon Poet Laureate Paulann Petersen remembers her first year organizing a William Stafford birthday celebration. "We organized two events, in Lake Oswego and West Linn, and I was astonished," said Petersen. "Both had standing room only. People were out in the hall, or standing outside peering in – and this was in January.
The next year we organized six events, the next year ten."Over 40 events are currently planned in 19 states and six countries, including NATO Headquarters, Joshua Tree National Park, and Nevada Correctional Institute.
The intent of Oregon Heritage Commission's declaration is to "put a spotlight on an important cultural heritage anniversary," said coordinator Kyle Jansson, who noted that "the State's declaration gives cache to communities; it can be used by organizations in their publicity."
The arts, heritage and humanities are often intertwined, and William Stafford provides a prime example. "When arts, heritage and humanities overlap, each brings a different color to the palette," said Jansson. "When you have a full palette, more people will pay attention, will try to understand the significance of what they are seeing and doing."