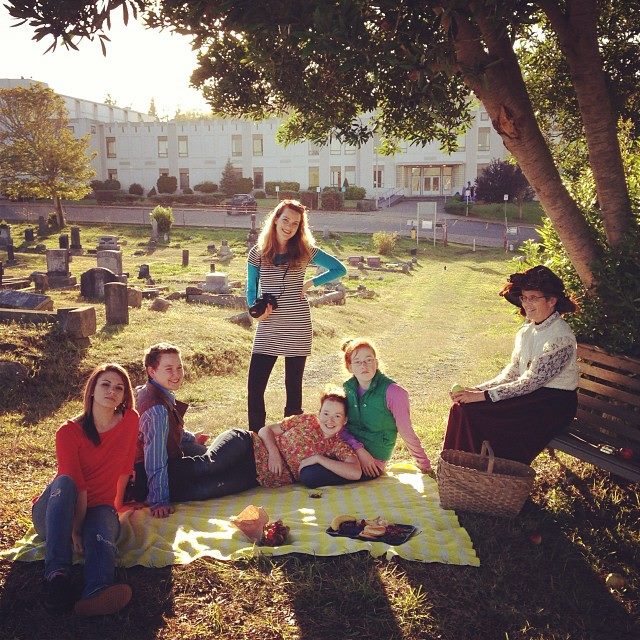 The Cultural Trust has commissionedphotographs from nationally renowned Portland photographer Holly Andres for twoyears in a row. Her images have been centerpieces of the Trust's 2012-13marketing campaign and have included such Oregon notables as EsperanzaSpalding, Cheryl Strayed, Sam Johnson, Rogue Ales and more. 
Additional images commissioned for the2013-14 campaign, are currently in production.
Andres was excited to begin shooting for the Trust again. "This year's campaign has kicked off with some truly exciting portraiture subjects," said Andres, "starting with Kim and Tyler Malek, the originators of Salt & Straw. As I delved into my research, I learned how and why their unique approach to ice cream has created such a magnificent stir. Where else can you find ice cream flavors such as cheese marionberry habanero, mint leaves with sea urchin meringues, or loaded baked potato? Given their experimental and nonconventional methods, I decided to create a narrative depicting Kim and Tyler in as mad scientists in their secret 'laboratory,' concocting various recipes and experiencing moments of pure discovery."
She also raved about her trip to Coos Bay, to photograph Marshfield Pioneer Cemetery's High School Restoration Project. "Becky Soules started the program over a decade ago as a Marshfield High School freshman. The cemetery, which is adjacent to the school, was then heavily vandalized, overgrown, and weather damaged, entire graves had disappeared." Soules' efforts helped galvanize the community to restore the grounds, and since then the Marshfield Pioneer Cemetery has been added to the list of the National Register of Historic Places. Said Andres,"I photographed a group of girls eating their school lunch in the cemetery, referencing romantic picnic motifs commonly found in Impressionistic paintings. My hope was to create a compelling portrait that effectively illustrates the work that has been done to transform the cemetery into a beautiful and welcoming place for Oregon heritage, and that these efforts were, in part, inspired by a determined high school girl and her peers."
Look for the new Salt & Straw image in upcoming issues of Portland Monthly and 1859 Magazine. Look for the Marshfield Cemetery photos in the year-end Trust campaign and advertising. Click on the icon below to see another great picture by Holly Andres at Marshfield.