A very special feature of the Cultural Trust's 2016 campaign is the debut of our interactive map of Oregon culture. The map will be populated with all of the content gathered by the Cultural Care-a-Van over the summer. The map will launch with a few dozen sites but will grow as we gather more cultural footage from around the state.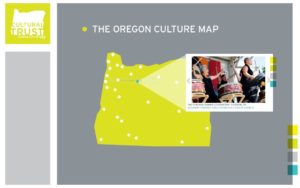 Each dot on the map, when clicked, will come to life with photos, videos, interviews and soundbites of a cultural event that defines that part of the state. The plan is to add to the map over time, so please send us content if your community isn't yet represented.
View the map in About Us, here.