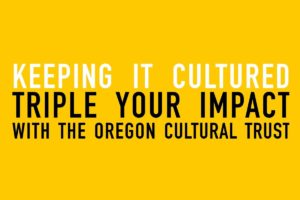 An Article in Willamette Week Touts the Uniqueness and Impact of the Cultural Trust
Willamette Week helped introduce readers to the "only in Oregon" Cultural Trust and cultural tax credit with this profile when it launched the 2018 Give!Guide. Every year, the Give!Guide introduces donors to the Cultural Trust and how they can double their impact on culture in our state for FREE through the tax credit.
Donors that give to cultural organizations through Willamette Week's Give!Guide can easily make their match to the Trust before leaving the website.
Ultimately, the Oregon Cultural Trust's work allows everyone to have a hand in making sure opportunities to grow and prosper are plentiful. It is the Oregon way, after all!