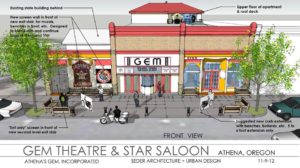 A 1901 building in Athena, Oregon, that began as a saloon and later became the historic Gem Theatre is now being transformed into a regional art center by Athena's Gem, Inc. Athena is in the heart of eastern Oregon wheat country overlooking the Umatilla Indian Reservation.
The new, multi-use facility will provide space for movies, plays, school functions and even streaming concerts and other performances. A museum will feature vintage Hodaka motorcycles, once designed and assembled in Athena. Actual Hodaka bikes and photographs will line the walls. A multi-level apartment constructed on one end of the building will provide ongoing funding to pay for general building maintenance and utilities.
Athena's Gem applied for Cultural Trust funding for the first time in 2017 and was awarded a $39,120 grant.