In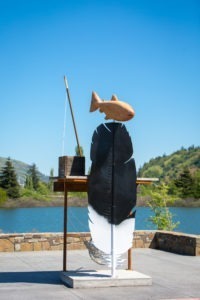 troducing "N'Chi Wanapum," a new sculpture in the Art in Education of the Gorge/ Art of Community's Big Art walk in Hood River.
"N'Chi Wanapum," by Native American artist Foster Kalama, is a life-sized tribute to the Celilo falls fishing platforms used by indigenous people before the falls were silenced by a dam 50 years ago. It is mixed media with steel, wood and natural fiber and will be located at the Hood River Waterfront along Nichols Basin.
"It is a sculpture of my life, my father's life and ancestors. I have fished the scaffolds since I was eight with my dad, Kalama Sr," says Foster.
Funded in part by the Oregon Cultural Trust.
Read more about Hood River's Big Art in the Hood River News.