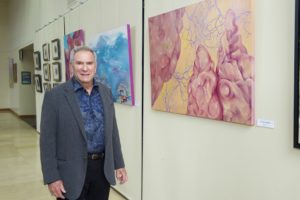 Now open at the Mittleman Jewish Community Center — a lobby art gallery!
Currently showcasing the work of lifelong artist Fred Harwin, the gallery was made possible in part by a grant from the Oregon Cultural Trust.
The 29-foot "history wall" in the center's lobby doubles as the new gallery. During exhibits, a system of cables displays art in front of a shade covering the history wall display. The center will avoid back-to-back art exhibits, so the wall's 100 years of history will be visible several times throughout the year.
Learn more from Oregon Jewish Life.