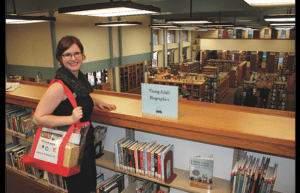 Teens will soon have a dedicated learning space at the The Dalles-Wasco County Public Library.
Funded by a grant from the Oregon Cultural Trust, the new space will include a digital media lab and a teen programming room specifically designed for students in grades six through 12. Among the enhancements will be programming materials and digital media for sound recording, animation equipment, digital artwork, and even a "green screen" to help create special effects. The renovations are expected to be completed sometime this summer.
The library hired teen specialist Megan Hoak (pictured) in 2015 and since then has seen an 87 percent increase in attendance at programs geared to middle school and high school kids.
Learn more in this story from The Dalles Chronicle.