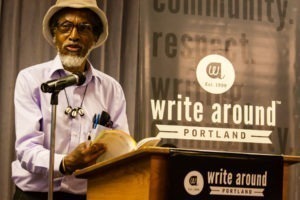 O.B. Hill was born in Birmingham, Alabama, before moving to Portland and becoming a Vanport Flood survivor. Now 76, he recently participated in a Write Around Portland workshop at Home Forward in the Schrunk Riverview Tower apartment community for seniors living on a low-income and persons with disabilities. O.B. said the workshop was a great way for him to connect with his neighbors and spark his writing.
O.B.'s poem, "She Got Off the Bus," was published in Write Around Portland's 52nd Anthology: Illuminated by the Words/Illumindos por las palabras. He continues to write and hopes to publish his autobiography in 2018.
Write Around Portland wrote with, published and celebrated the voices of more than 400 people this year alone.
Write Around Portland has received $64,570 in Cultural Trust funding since 2003.