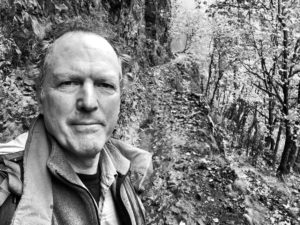 Salem, Ore. – Governor Kate Brown has named poet and essayist Kim Stafford, the founding director of The Northwest Writing Institute at Lewis & Clark College, to a two-year appointment as Poet Laureate of Oregon. Stafford will be Oregon's ninth Poet Laureate since 1921. He succeeds Elizabeth Woody, who has held the post since 2016.
"There are many ways to serve this state and among them is clarity of language and passion of purpose, which may travel from one soul to another through poetry," said Governor Brown. "Kim Stafford is one of our state's most generous literary teachers and I am proud to appoint him as our next Poet Laureate."
Stafford was born and grew up in Oregon. He is the author of a dozen books of poetry and prose, and edited half a dozen others. His book, "Having Everything Right: Essays of Place," won a citation for excellence from the Western States Book Awards in 1986. Stafford has received creative writing fellowships from the National Endowment for the Arts, a Governor's Arts Award, and the Steward Holbrook Award from Literary Arts for his contributions to Oregon's literary culture. His work also has been featured on National Public Radio.
"Generosity of spirit may not be an explicitly stated part of the criteria for Oregon Poet Laureate, but it is a central part of who Kim Stafford is, both in his poetry and in the flesh," said Adam Davis, executive director of Oregon Humanities, who administers the Poet Laureate program on behalf of the Cultural Trust.
"So it was no surprise to see the statewide selection committee share a deep conviction that Kim has, in many ways, effectively been doing the work that this honor from the Governor will now recognize and further amplify," Adams added. "Oregon is lucky to have Kim here, and we're excited about how he'll build on the work of Elizabeth Woody, Peter Sears, Paulann Petersen, and, of course, his father, William Stafford."
Stafford's most recent book, "100 Tricks Every Boy Can Do," is an account of his brother's death by suicide, and the struggle of a family to understand and live beyond that event. It is a story where "the writer reaches back through the difficult end to grasp the beautiful beginning, like pulling a venomous serpent inside out."
"Poetry is our native language," said Stafford. "We begin with imaginative experiments as children, and lyric language can be a realm of delight throughout life. For adults and communities, poetry can help us be more open to new ideas, emotionally informed, and buoyant in responding to challenges. In a society of diverse backgrounds and perspectives, poetry builds community."
Stafford holds a Ph.D. in medieval literature from the University of Oregon, and has worked as a printer, photographer, oral historian, editor and visiting writer at a host of colleges and schools, and also offered writing workshops in Italy, Scotland and Bhutan. He lives in Portland, Oregon, with his wife and children.
The Oregon Poet Laureate fosters the art of poetry, encourages literacy and learning, addresses central issues relating to humanities and heritage, and reflects on public life in Oregon. Stafford will provide up to 20 public readings per year in settings across the state to inform community, business and state leaders about the value and importance of poetry and creative expression. The program is funded by the Oregon Cultural Trust.
A 20-person committee of writers, poets and cultural leaders reviewed nominations in February and made its recommendation to the Cultural Trust and its statewide partners – Oregon Arts Commission, Oregon Historical Society, the Oregon Heritage Commission, Oregon Humanities and the State Historic Preservation Office. The Governor approved the committee's recommendation this week.
Past Oregon Poets Laureate were Edwin Charles Markham (1921–1940), Ben Hur Lampman (1951–1954), Ethel Romig Fuller (1957–1965), William Stafford (Kim Stafford's father, 1974–1989), Lawson Inada (2006–2010), Paulann Petersen (2010-2014) Peter Sears (2014-2016), and Elizabeth Woody (2016-2018).
Stafford will assume the Poet Laureate role immediately. A public ceremony to welcome him and thank Woody will be announced soon.
To learn more about the Oregon Poet Laureate program, or to schedule an event with Kim Stafford, visit the Poet Laureate website.
VIDEO LINKS:
Kim Stafford speaks on turning errors in the past into a story…
Oregon Art Beat profile of Kim Stafford
­­­­­­­­­­­­­­­­­­­­­­_________________
About the Oregon Cultural Trust
The Oregon Cultural Trust is an innovative, statewide private-public program raising significant new funds to support and protect Oregon's arts, humanities and heritage. In addition to the creation of a permanent endowment, funds are distributed annually through three multifaceted, wide-ranging grant programs. No other state in the nation has a program like the Oregon Cultural Trust, which has been ranked with the bottle bill and the vote-by-mail bill as among Oregon's most forward-thinking public policy measures. More information at culturaltrust.org.
About Oregon Humanities
Oregon Humanities is an independent, nonprofit affiliate of the National Endowment for the Humanities and a statewide partner of the Oregon Cultural Trust. Each year through programs and publications—the Conversation Project, Think & Drink, Humanity in Perspective, Idea Lab Summer Institute, Public Program Grants, and Oregon Humanities magazine—Oregon Humanities connects Oregonians to ideas that change lives and transform communities. More information at oregonhumanities.org.